In this final update before #self2019:
– In addition to our normal schedule we are releasing our detailed Fiber Track schedule, which includes kit details and kit pricing.  The ladies behind the Fiber Track have also created a Facebook group for those wanting to interact more with them.  Consider joining!
– A big thanks to RiffTrax for allowing us to screen Plan 9 From Outer Space (not Plan 9 from Bell Labs) as part of our Saturday night festivities at 8:00 PM at SELF.
– A reminder to those who can't make it in meat space … consider attending SELF as a remote attendee.  You get near-live video from the talks at the conference, live coverage from the Ask Noah Show, and all for the excessively reasonable cost of $5.   (Why $5?  Because running A/V is expensive, and we think you should really attend because the "Hallway Track" is one of the most valuable parts of the conference.)
– Thanks to Linode, our Saturday party is sponsored.   If you want to get into the Friday Party though, since it is not sponsored at this time, you need to be a Ring2 or lower attendee (basically any non-free attendee type) OR bring some to share (click here to view our "inventory" collaborative doc).  Note that this document is updated rapidly over the final few days before SELF as people get growlers/etc from their local microbreweries.  
– We have hidden an easter egg in our program guide.   If you're at SELF, look closely.  You may be able to find loot!
– Interested in volunteering?   Shoot an email to info@southeastlinuxfest.org and we'll have our volunteer coordinator reach out immediately.
– For any stragglers still looking for a hotel room … we recommend the Holiday Inn near the Sheraton Charlotte Airport.  While we were unable to secure a block with a rate, the Holiday Inn shares a shuttle with the Sheraton and so you'll be able to shuttle over to/from the Sheraton for free during SELF.
– We have LAN Party info for our official game servers (only accessible from SELF's on site network):
Team Fortress 2:  tf2server.self.lan:27015
CS:GO:  csgoserver.self.lan:27015
UT2004:  ut2k4server.self.lan:7777
Minecraft: mcserver.self.lan:25565
Factorio:  factorioserver.self.lan:34197
Call of Duty 4:  cod4.self.lan:28960
– PogoLinux has released the specs of their raffle prize at SELF:  a 20TB NAS!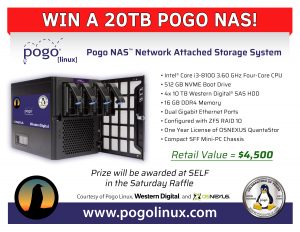 – We will be running a ham radio special events station (W4L) at the conference including two full HF rigs.   We'll be operating over multiple bands and modes (though primarily around 20m-40m).   Check our Twitter feed during the conference for the latest on where we are on the bands.   We'll also be mailing QSL cards upon request after successful QSO.  If you're lucky, you could get multiple QSL cards including the operator who was working the station!  Here's what our QSL cards look like: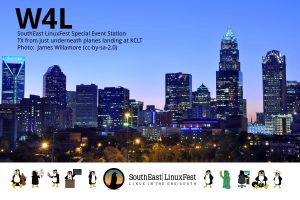 See everybody this weekend!